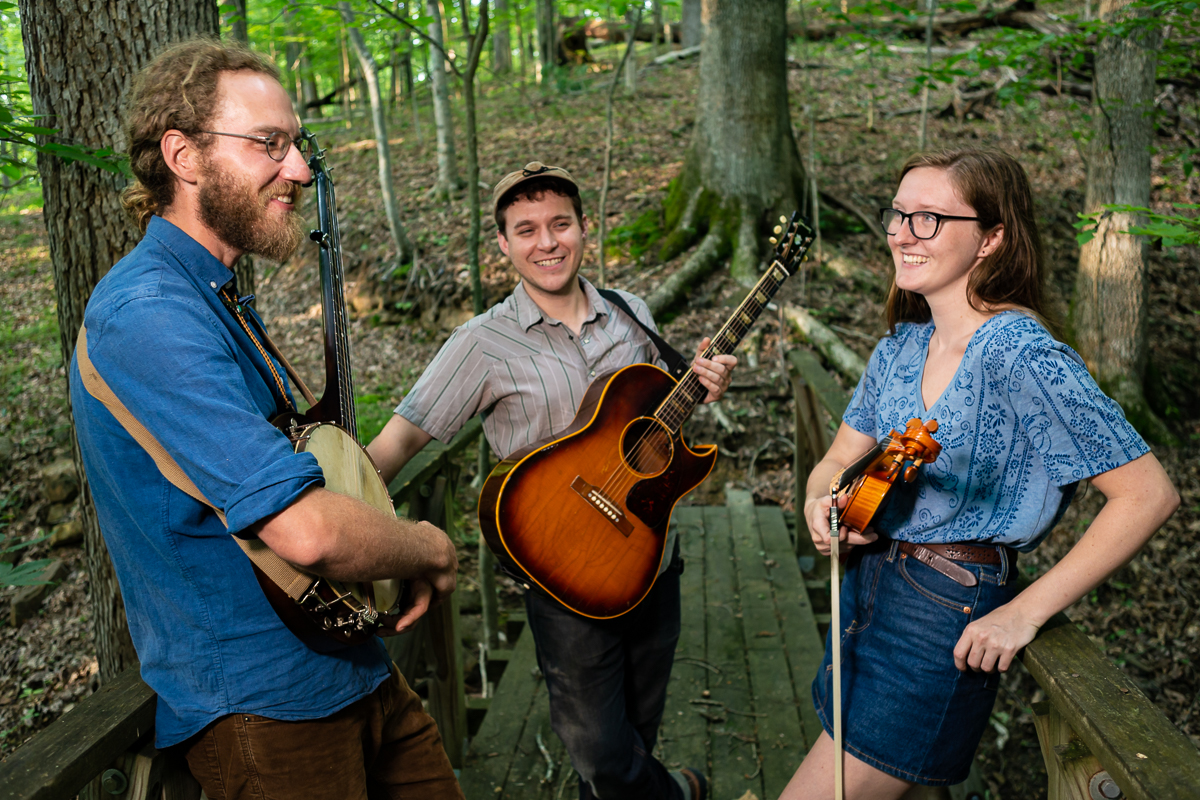 Big Possum Stringband is the 21st century's answer to the question, "whatever happened to Appalachian music?" Formed in 2017, the Possums are young, excited, and passionate about the rich legacy of traditional music of the American South. Contest winners Tessa Dillon (fiddle) and Seth Swingle (banjo) are joined by multi-instrumentalist Evan Collins to make oldtime country music's hottest new band. Fresh off their 1st place win at the 2018 Clifftop festival (generally regarded as the most prestigious contest in the genre), the Possums are bringing their mix of breakdowns, showpieces, ballads and rounder songs to audiences around the nation and the world. With three-part harmonies, electrifying fiddle breaks and a pounding square-dance beat, the Big Possum will have you stamping, yelling and dancing along.

Our latest achievements: Big Possum Stringband won 1st place in the 2018 old-time stringband contest at Clifftop! In addition to the band contest, Tessa won 3rd place in fiddle. After Clifftop, we headed to the Galax fiddlers convention where Big Possum won 5th place in the old-time band contest. We toured around the east coast of the US in November 2018, and are heading to Colorado and back in July 2019 on a debut CD release tour, and making our way to Australia in August 2019!
Tessa Dillon - Charleston, WV
Hailing from an area with a strong tradition in fiddling is Tessa Dillon, from Saint Albans, WV. She's been playing fiddle in West Virginia since she was 5 years old. Her driving style has helped her win 1st place at the Vandalia Gathering, Ed Haley Memorial Contest, Surry County Fiddlers Convention, and Elmer Rich Memorial contest, as well as placing 3rd at Clifftop, the Galax Fiddlers Convention and the Grand Masters Fiddle Championship in Nashville, TN. She released her first solo album, titled It's Hard to Love, in Summer 2018 with Kim Johnson on banjo and Jesse Milnes on guitar. It's currently available on CD Baby. She is happy to be keeping the West Virginia fiddling tradition alive and strong.
Evan McBrayer Collins - Newark, OH
The guitar player for Big Possum, multi-instrumentalist Evan Collins, is from Iron River, Michigan. Now living in Newark, Ohio, Evan is a luthier making fiddles and repairing instruments. In addition to playing guitar, Evan is also a force to be reckoned with in the banjo world. Drawing inspiration in everything from Roscoe Holcomb, Lee Sexton and John Salyer to Bill Monroe and the Stanley Brothers, Evan is the glue keeping Big Possum's sound solid and tight.
Seth Swingle - Charlottesville, VA
The newest Possum to join the passel is multi-instrumentalist Seth Swingle. He has been a finalist in the in the renowned Appalachian Stringband Music Festival (aka Clifftop) for the past four years, and is a 2-time Virginia State Banjo Champion. He plays a variety of archaic regional banjo styles (clawhammer, index- and thumb-lead 2-finger, up-picking and 3-finger) on everything from mandoline-banjo to 6-string banjo, and every banjo in between! He has also spent several years in West Africa studying the kora, a 21-string harp. As one of the few Westerners to have learned the kora in a years-long apprenticeship, Seth is uniquely situated as an ambassador between musical cultures.